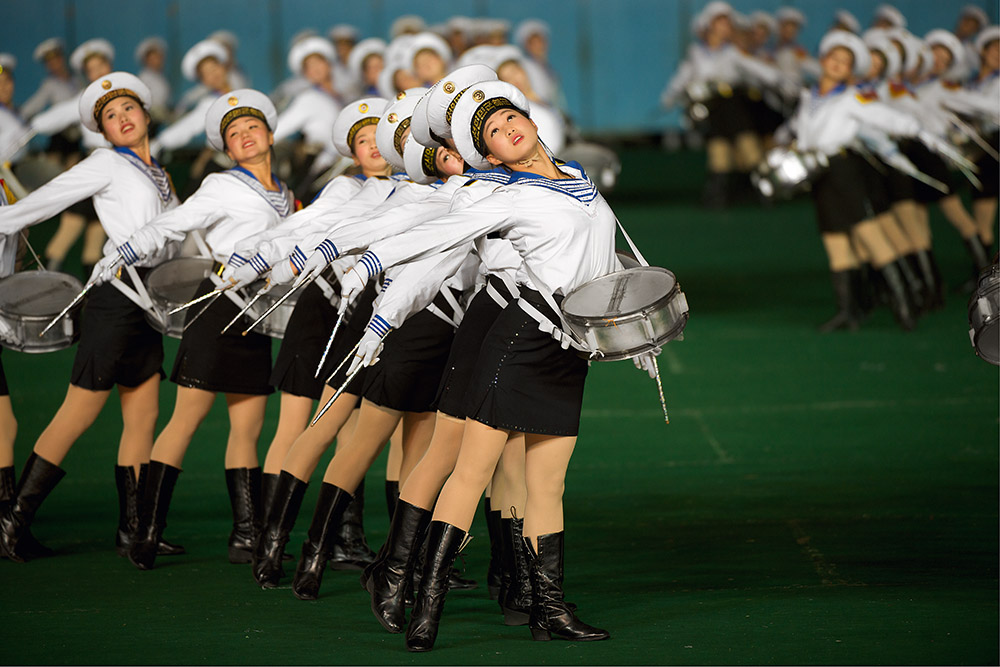 Massgames Pyongyang
Photo series about the Massgames in North Korea – the biggest show in the world
Series of 10 photos published at the gallery Lumas
The schoolchildren, conscious that a single slip in their action may spoil their mass gymnastic performance, make every effort to subordinate all their thoughts and actions to the collective.
On Further Developing Mass Gymnastics.
General Kim Jong-il, April 1987
In June 1811, Friedrich Ludwig Jahn, who later became known as the "gymnastics father", opened the first "gymnastics ground" on the "Hasenheide" in Berlin. Every citicen should be able to gather here and strengthen publicly with physical exercises. But the authorities looked suspiciously at the rapidly growing "gymnastics" movement, as Jahn was known as a radical nationalist who dreamed of civil rights and equality and wanted to unify the fragmented small states in Germany to a "Greater Germany" with a newly built capital "Teutonia" in Thuringia. So it is not surprising that the gymnasts were forbidden in 1820 and Jahn was arrested several times in the following period. It was not until 1842 that William IV. of Prussia lifted the ban after Jahn had renounced his most radical political ideas. After this de-ideologization, however, the movement gained enormous popularity. The first highlight of the is the Leipzig Gymnastics Festival of 1863 with over 20,000 participants.
When the idea of public mass gymnastics was rediscovered by various socialist states after the Second World War, a new political charge – apparently inevitable – followed, but from another direction. The synchronicity of movements, already introduced by Jahn, was now driven to its peak, since system faith and staging suddenly fit together perfectly. North Korea's ruler Kim Jong Il formulated this idea in an essay "On further developing mass gymnastics" as follows: "The schoolchildren, conscious that a single slip in their action may spoil their mass gymnastic performance, make every effort to subordinate all their thoughts and actions to the collective." The individual only functions as part of the collective, and the collective is only perfect if each individual is. The massgames serve as a way to "fully developed communist people" (Kim Jong Il, ibid.). Equipped with this ideological framework, the North Korean Mass Games eclipse everything that has ever been performed in the Eastern Bloc and put the just described into such a gigantic and spectacular show – and I really wanted to photograph it again.
Few things
(Customs officers at airports then make "many things" of it again – and on the way to Pyongyang you have to pass through many airports…)
Through my pictures book about the Massgames I got in contact with Galerie Lumas, which was interested in including a series of my photos in its portfolio. Since I only had a small amateur camera with me for my first series, the resolution of the photos was not enough for the large formats that Lumas wanted. With this offer in my pocket, I decided to take a second series. However, if I flew to Pyongyang again for the Massgames, I didn't want to sit again on any place in the stadium, like all the other tourist, but wanted to get as far as possible to the playing field with decent equipment. Regular tourists are advised not to take any focal lengths over 200 mm, as you can see above, I had bigger plans. I was less interested in the spectacular wide shots as Andreas Gursky took them some years ago. My approach was to pick the individual participant, to find the "man in the masses", pull him out of the collective – and I had to get as close as possible to the participants. By being close to the playing field or extremely long focal lengths, preferably both. All of this meant – I needed a special photo permission.
The hurdle of this permission turned out to be higher than expected. If you want to take photos or shoot a movie in Berlin, there is a professionally managed location office where you can ask for your desired location and negotiate the price. But there is no such thing in Pyongyang. So I tried all possible other ways, wrote the German Embassy in Pyongyang, the Goethe Institute, which was still operating a reading room there at the time, tried it through all kinds of tour operators – unsuccessfully. For almost a year I had to listen to people who told me that I couldn't do it. But apparently my efforts were registered: a Korean employee of the German Embassy researched how I had come to the country for the first time and wrote that travel agency Koryo Tours, that there is a guy from Germany who rouses everyone in Pyongyang with his photo permission. Nick Bonner from Koryo Tours turned to me and with his help things slowly started to move. At the end of the summer I still didn't have a permission – but I got a message from Nick: a door could open for me in Pyongyang. The best thing would be to jump on a plane and just try it. I didn't want to miss this moment, took all my courage, plundered my bank account and travelled to the "hermit kingdom" twice in September and October 2009. Of course, there was nothing fixed in Pyongyang, but at least I was able to bring my equipment through customs. My great guides fought hard for me and after further difficult negotiations, I was actually right at the front of the field, at the very edge of the world's biggest show – closer than any other photographer before me
From the results I cut together a small photo film and selected a song according to a recommendation of the former "Dear Leader" Kim Jong-il: "mass gymnastic music should be played vigorously and solemnly".
Maybe this is the last big work on this gigantic show. The last Massgames took place in August 2013. No one knows if they will ever be performed again.
Back