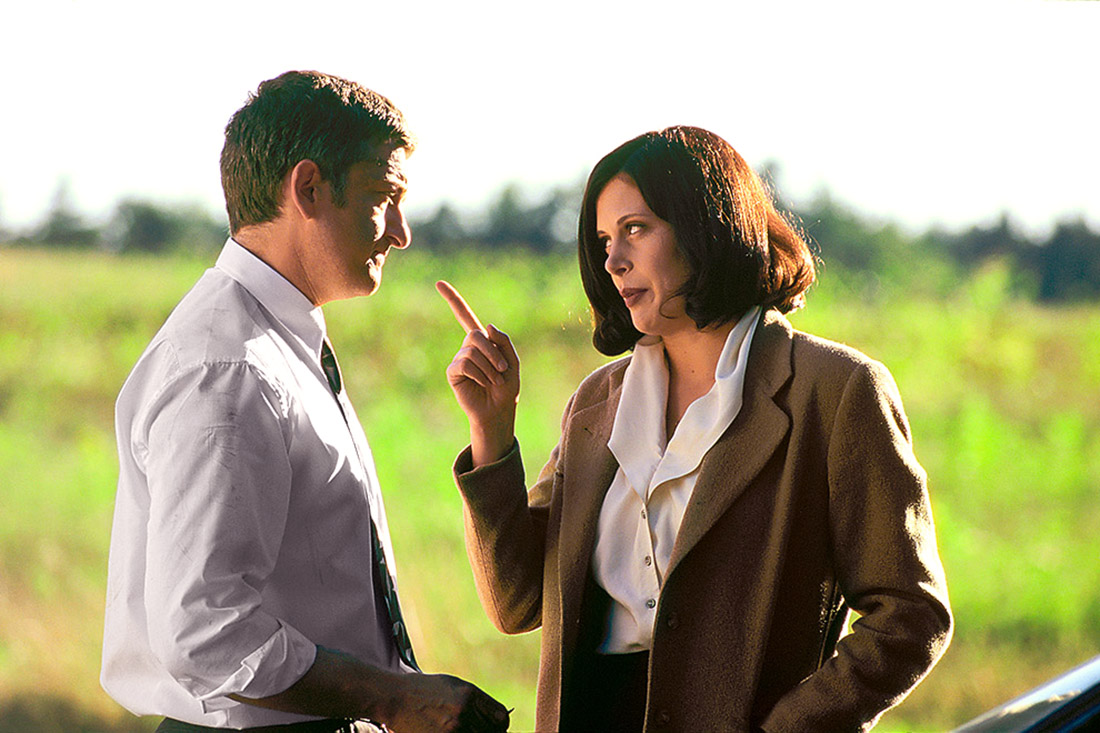 Remote Control
When the drummer of a speed metal band explodes during a rehearsal in Kleinhartpenning in Upper Bavaria, the police are faced with a big mystery. But after the two UFO hunters Frank Müller and Dörte Skalski are involved in the case, a mysterious trace emerges that leads via a local UFO sect directly to an alien spaceship floating above the small village. And to make matters worse, a chicken seems to be involved in the case…
Short film 1998 / 15′
Written & Directed by
Actors: Dominic Raacke, Georgia Stahl, Sepp Schauer,
Maria Peshek, Joseph Hannesschläger
Production: T4-Filmproduktion / Claudia Gatzke
A co-production of T4-Film, HFF Munich and CineImage
funded by FilmFernsehFonds Bayern
TV: Bavarian Radio, arte, WDR
numerous festivals
Skalski: Jetzt fangen Sie mir aber nicht wieder mit Ihren Außerirdischen an!
Müller: So weit würde ich gar nicht gehen, aber ich muß gestehen, dieser Fall hat so ein gewisses paranormales Bouquet.
Since my major science fiction project "Space Zoo" could not be financed as the second film after my camera exercise "Jamaica", I urgently needed a new material in 1997. After several unsuccessful attempts the penny finally fell on a holiday on Sylt: my practice film was to become a Bavarian X-Files-Persiflage. The idea was captivating: "The X-Files" was the big TV show of the 90s and the transformation of a series into a short film format appealed to me. But I was much more attracted by the opportunity to locate a couple of investigators in the style of Mulder & Scully in rustic Bavaria, who followed their UFO cases as passionately as the American role models.
The financing was very easy compared to "Space-Zoo". The professor of my producer Claudia Gatzke had an ominous special pot of Bavarian film funding. Since this had to be exhausted as quickly as possible before the funds expired, we simply queued up in front of his office. When it was our turn, the same professor did not ask about the content for long, he just wanted to know how much we needed. We had no idea how much we could charge here, so we said boldly 10,000. The professor nodded and brought in the next. The 10.000 (Mark!) were not enough for the front and the back – and yet we threw ourselves into the turmoil. We got a cheap camera, begged ourselves at Munich advertising film productions roll by roll the film material that they had stored in their refrigerators and no longer needed. I found with Dominic Raacke and Georgia Stahl two wonderful actors for the leading roles, organized about an uncle of mine a few cool loactions in the country. I found the spaceship in a corner at the trick studio Magicon, where I started my career as a little intern and the trick with the landing spaceship is probably the cheapest in science fiction history: a black frame, a lamp, some fog, plus an illuminator as operator, which slowly retracts a tripod. All together the perfect illusion.
The continuation of "Explodiert" is my major project "Aliens in Oberbayern", in which the secret of the Bavarian aliens is to be solved once and for all…