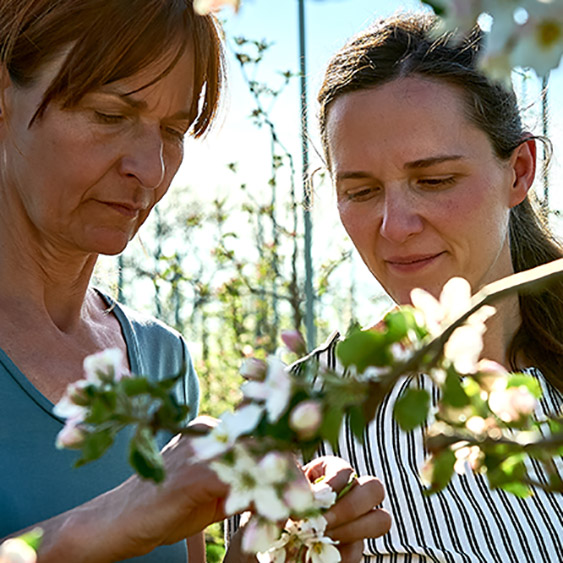 Franz Müller Fruit Estate
The fact that many farmers have a hard time surviving with their farms today is nothing new. The prices for their products are often set by the large discounters, who haggle mercilessly over every cent. In order to survive in this price war, the trend in recent decades has been towards size, industrialisation and rationalisation of agriculture. But many farmers do not want this. They do not want to become agricultural factories, but as farmers they want to experience nature and deliver good products to the customers. Thus, more and more small farms are focusing not on reducing their costs, but on consistently increasing their quality. The products are no longer marketed in supermarkets, but in farm shops, in direct contact with the customers.
Founded in 1992, Franz Müller Fruit Estate is one of these farms. Anke and Cathleen Wollanik, who now run the farm together in the third generation, are in the process of converting their entire production to organic in order to be able to supply customers with even better apples. More than 20 apple varieties grow here on 160 hectares in the north-east of Berlin, with something for every taste. The apples are sold in the farm shop or, during the harvest season in autumn, they are picked by the farmers themselves.
They are supported by online marketeer Andreas Poell, who not only brings marketing strategies up to speed, but also has a heart for small farms and direct marketers. Together with a few comrades-in-arms, he founded the Wurzlbuam, a platform that aims to bring producers and consumers together. For the Franz Müller fruit estate, the Wurzlbuam are currently doing a pilot project with a new website and since I share their passion, I have joined them and am realising the image films and photos to showcase the farmers, their living environment and products in a beautiful way.
The project for Franz Müller is work-in-progress. We will present the first results in autumn.